In This Issue
---

Sheila's Blog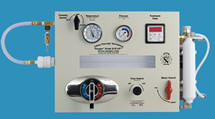 Hello All!

Spring is finally here and I know how happy many of you are to feel the warmth of the sun again! My newsletter is jam-packed full of goodies with many insights on how you can go to higher levels of health. Oh, and BTW, I got a new colonic machine installed this week. Another milestone. It's the latest high tech version of the Toxygen by Dotolo Research Corporation! Come and try a colonic on my new toy!

I am thrilled with the results my clients are getting with the Arise & Shine 7-Day Cleanse and the Liver/Gall Bladder flushes. Let me know if you are interested and I can set you up on a short cleansing program interspersed with colonics.

Enjoy the newsletter, pass it on to your friends and stay in touch.

Enjoy,

Sheila

---

Turn Your Guts Upside Down -- Inversions in Yoga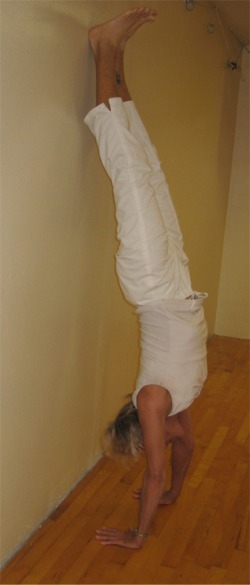 Just when you think you've heard it all, now you have to go upside down to heal your guts! Yoga is filled with postures, called inversions, in which you go upside down such as handstand, forearm balance, headstand and shoulder stand. Of these 4, the shoulder stand is the easiest.

I started yoga ages ago in 1971. I did a headstand in my first class! Inversions are some of my favorite postures. What I note is that when I do an inversion such as a handstand I can feel my guts reversing their downward gravity and sliding comfortably toward my diaphragm. It feels great and it's so good to rejuvenate them, to give them a break from the continuous downward pull of gravity over a lifetime!

Elise Love one of my favorite yoga teachers took a few pics of me doing some inversions. The one you are looking at is me doing a handstand. I want to encourage you to learn them and have fun with them. You really do your gut a favor! Plus you get some needed exercise and relaxation from your yoga class.

---

The Joyful Belly
One of my friends turned me on to this excellent Ayurvedic site called the Joyful Belly. I am sure that this name will catch your attention! We all want a joyful belly. This site has great information that will support you in cleansing, understanding your body type and what kind of food and drink are best for you. Ayurveda, the ancient healing system of India, is very focused on cleansing! They call it Panchakarma!

The above link leads you to a spectacular spring cleanse drink with carrots, celery, black pepper, beets, radish, parsley and garlic. Go for it and combine it with a series of colonics and a dietary change for your body type!!!!
---

Testimonial from a Great Client
"After enduring six years of increasingly more intractable constipation, I made an appointment in January of 2010 for 8 colon hydrotherapy treatments with Sheila Shea. At one point, Sheila mentioned to me, in quite an offhand way, Elaine Gottschall's Specific Carbohydrate Diet (SCD). Sheila did not elaborate on SCD. She merely spoke about SCD's positive effect on dysbiosis [the overproduction of intestinal bacteria]. After completing the 8 colonic hydrotherapy treatments I had with Sheila and doing some Internet research, I was convinced that SCD was the next step toward healing

After one year of following the Specific Carbohydrate Diet, I have had a significant diminution of constipation symptoms. I have regular bowel movements, usually soon after awakening. On several occasions, I have had more than one evacuation a day. I have been able to resume eating some SCD "illegal" grains: quinoa, rice and corn but do so infrequently and do not eat these addictively as I did, prior to colonic hydrotherapy treatment with Sheila and using the SCD. I believe the SCD has stopped the dysbiosis that doubtless caused and aggravated constipation. I recommend Sheila as caring and effective healer."

-BF
Tucson, AZ
Many thanks, BF! You can find information on the Specific Carbohydrate Diet in Breaking the Vicious Cycle by Elaine Gottschall. Elaine documents the effect of sugars on the gut wall. The diet of zero tolerance for complex sugars is especially healing for many gut conditions including IBD, IBS, ADHD, constipation and diarrhea. I would be glad to work with you on a combo of colonics and SCD. It does work just like BF wrote!
---

The Tasteful Kitchen: Tucson's Amazing New Restaurant

Rebecca Astara, a great local producer and promoter, has written this review of our new restaurant. Check it out. Also, Rebecca informed me that they have a raw food sous chef. When I went last night to the Tasteful Kitchen, I did the 4-course raw food dinner! YUM.



Last evening I had the great pleasure of dining at a new vegetarian and vegan cuisine restaurant here in Tucson, The Tasteful Kitchen. Chris and Elaina came up from Patagonia and we all LOVED it!

It is truly a new hidden gem and I write tonight to ask our beautiful Tucson community to support this space many of us have been praying for!

The Tasteful Kitchen is owned and operated by local Tucson sisters, Keanne and Sigret Thompson. The space is small and intimate and filled with beautiful art, many pieces that Sigret herself has painted.

The sisters are using seasonal fruit and vegetables with a strong emphasis on organic produce (hallelujah!)

They are open for dinner Wednesday through Sunday from 5-9pm (W, Th, Sun) and 5-10pm (Fri & Sat). They highly encourage reservations. (520-250-9600)

They are located at 722 N Stone Avenue right next to the giant restaurant supply store close to University. Tons of parking is in the back and you can enter either off Stone or from the back.

Sean, Elaina, Chris and I all tried the "Vegetarian Supper Club" which was a 4-course meal that included fresh pressed juice and raw dessert. The food was outstanding and the presentation and service was off the charts. The atmosphere is casual and inviting and Chris' 5-year-old son found plenty to eat! We started with their kale chips that were light and delicious. SO exciting to see kale chips on a menu in Tucson!

They also offer many a la carte items including salads, sandwiches, and amazing main courses such as Mushroom and poblano tacos; adzuki bean and yam hash & a roasted vegetable stack with a polenta cake. I'm in Heaven!

Please check out this awesome new restaurant as soon as possible and support the love that Keanne and Sigret are offering to our community through their delicious food & service.

Let us know when you are going and perhaps we'll join you!

Much love!

Rebecca Astara



You can find more information on Yelp - Or on their Facebook page Thompsons Tasteful Events and The Tasteful Kitchen.

---

Eden Hot Springs Retreat - May 11-15, 2011
Rebecca and gang are at in again and staging another great retreat at the Eden Hot Springs. Plenty of raw, some cooked food and great activities including indulging in the exotic hot springs one of which is an Olympic size swimming pool. Take time to turn your life around and have fun in the process. This retreat is a great opportunity for you to unplug and get some needed time to rest, relax, restore health and of course, have a lot of fun. Oh, and you can unplug there with colonics, too!!!!

---

Private Retreat Space Available in My Home
Would you like to take a break, vacation, eat clean or get a change of pace for a few days to a few weeks and feast on raw juices, raw foods, green smoothies, broths or the Specific Carbohydrate Diet? I have a 2nd floor guest bed/bath for your privacy. I can work with you on your program of fun or retreating or exercising or just plain chilling. It is all within your reach! Call or email for details and availability. (520) 325-9686 or [email protected].
---

The Economic Colonic
The 'economic colonic' is back due to big demand. Some clients are taking advantage of this wonderful offer. When you ask for the 'economic colonic' your price for each session is $55. If you purchase a series of them, you have 3 months to use them before they expire. The portal to the EC is from the day you receive this newsletter to May 11, Wednesday, 2011.
---

Opportunity to Rent Beautiful Office Space
I have a spacious room at the office perfect for a holistic practitioner. We are centrally located on 5th Street. Are you an LMT, a therapist or an herbalist desiring your own space to expand your practice? Give a call or email. I would love to show you the room. (520) 325-9686 or [email protected].
---

Hot Links to Cool Places
Radiation Toxicity Antidotes
I've been reading about nuclear radiation ever since the Fukushima reactors in Japan were affected by the earthquake and tsunami. Dr Apsley has the hottest article I have read about the radiation and what you can personally do about it. It's long and it's mind-boggling. He does call for colon cleansing because the toxic radioactive metals find their way to the colon for elimination. This is not the time to harbor constipation! This is the time to get it on out!
Food: Six Things to Feel Good About
by Mark Bittman
The NYT has a very hopeful article on great things happening in our 'food world'. You will definitely feel optimistic and even want to participate in some of the areas that are taking off in the healthy food world!
Aspartame Is Not the Only Thing in Diet Cola That Can Kill You
by Tom Philpott
A number of my clients for colon hydrotherapy come in and admit they are addicted to diet drinks. Fortunately, they are making great progress in ending their addiction especially after my 'lecture' on how toxic they are. Now Tom Philpott has written an article that will cure you forever from even thinking about drinking them again.
Still Drinking Diet Soda? Don't Be a Fashion Victim!
by Tom Philpott
Tom is at it again. Another reason not to drink diet drinks. This time you risk stroking!
Medical Qigong
Medical Qigong is the site of Tai Blue who is a local Qigong Therapist Instructor and Raw Food caterer and teacher. Have Tai give you a hand for your exercise or in preparing delicious raw food dishes for yourself.
(520) 248-6303
[email protected]
Healing with Honey and Cinnamon
This article was posted on the Effective Survival site on July 17, 2009 by Michael in General Survival, Homesteading. He outlines the many conditions for which honey and cinnamon are healing such as cancer and heart disease. And, it's so simple.
Digestive Wellness: Your SCD Superstore (845) 356-4557
I've been getting their blog with some very cool recipes now I discovered their website and products. This site page that comes up has all the SCD proof Passover foods. Yum. PS This diet is zero tolerance for complex sugars.
---

Remember! I Give Lectures and Presentations
Sheila Shea is available to speak to your business or professional organization. I am happy to present my knowledge on colon hydrotherapy, detoxification and cleansing programs, raw food and/or specific carbohydrate diets. Email or call me (520) 325-9686.

---

Services
Colon Hydrotherapy Spa & School, Consultations, Retreats & Raw Food Classes.
---

Keep Your Plumbing Humming!




I hope that I have given you food for thought in this newsletter and ways that you can go to the next level in your health. I got the quote, 'Keep your plumbing humming' from a wonderful general contractor friend. That's her company byline! So keep your plumbing happy and healthy. Keep your pipes open, clear, energetic and moving

Be in touch with your thoughts and questions.

Best,

Sheila Shea, Director

www.intestinalhealthinstitute.com


[email protected]