In This Issue
---

Sheila's Blog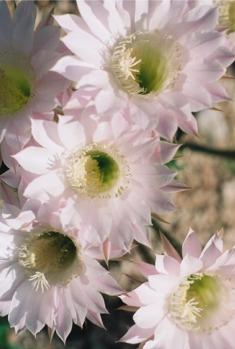 Hello All!

What a winter we are having. Tucson sustained 4 nights of freezing temperatures in the teens and twenties. Water pipes were bursting everywhere! Speaking of water pipes, how is your plumbing? Are you happy with your elimination? Are you wanting to clean up your diet and exercise act and get your pipes moving better? The best ways to unfreeze your pipes, meaning your intestines, is to cleanse using colon hydrotherapy. Colon Hydrotherapy improves muscle tone in your gut. Better muscle tone in your gut means that your gut has better energy and more efficient elimination

I want to support all of you to do your very best with diet, exercise and cleansing in order to have optimum health and energy. One of the biggest complaints clients have is fatigue, low energy and brain fog. It does not have to be that way. Throughout the newsletter I hope to show you some great ways to get on track with your diet and your gut! What could be better!

Enjoy,

Sheila

---

The 7-Day Cleanse by Arise and Shine
One of my favorite products I carry at the office is the 7-Day Cleanse by Arise & Shine. What makes this cleanse so manageable? It's only 7 days. Everything comes in convenient packets. You get to eat 3 meals a day and snacks!

What do you get with the 7-Day Cleanse? Bonanza. You get the shaker and lid for the 2 daily psyllium and bentonite shakes. You get 2 herbal formulas: one that dissolves waste from the gut walls and the other that builds your organs. You also get your packets of probiotic; the good bacteria that you want to populate your gut! You are cleansing and rebuilding yourself at the same time. You are modifying your behavior and setting up better self-healing habits. The other bonanza is that you feel better physically and mentally after the cleanse.

I advise ideally that you take 3 colonics during the 7-Day Cleanse, one before, during and after. It's important throughout to keep your bowels moving so that you do not reabsorb any toxins that are leaving your body. Putting in the good herbs and nutrients and receiving the colonics allows your nervous system to relax and calm down. That's a big benefit, too, in our high stress era!

The cost of a series of 3 is $216: the cost of the 7-Day is $80. Call me at 520-325-9686 or email me if this is something you would like to do for yourself and receive some coaching from me.
---

Chiropractic, Cleansing and Colonics!
Get with us on March 10, Thursday at 6PM
Spring Is Upon Us. It's Time to Cleanse!
Who are we! Rachel Novak DC, Sheila Shea MA and Kathy Kirchner are giving a fun introductory evening to cleansing, rebuilding and balancing. Dr Rachel is hosting the event at her chiropractic office at 64 N Harrison and Broadway. Kathy Kirchner, an assistant to Ariel Policano NMD, will introduce Dr Ariel's 14-day Body Bliss Cleanse. Rachel will describe the benefits of chiropractic on the nervous system. And, I will talk about how colonics support cleansing and healing the body and nerves!

Also, we plan to have some raw food dishes for you to sample and give you a taste of the wonderful cleanse we are suggesting for your spring cleanse. We plan to have a fun evening and would love to see you. To RSVP, please call or email Dr Rachel at 520-390-2966 or [email protected] or Sheila at 520-325-9686 or [email protected].
---

The Raw Food Potluck, My Home, February 26, Saturday, 6-10PM
Another Raw Food Potluck is upon us! I am hosting through Succulent Raw Tucson another great evening of super raw food dishes and beverages and of course, great company. Make a dish that is raw and preferably organic for about 6-8 people. If you have any questions call or email me and I can give you some ideas or send you some recipes. Alternatively, you can come empty-handed and make a donation to Succulent Raw! The Raw Food Potluck is another opportunity for you to learn a great diet, make some changes in your own and socialize around a new diet with other people that are loads of fun and have great energy!

The event is at my home in the Ft Lowell/Columbus area. I suggest you go to Succulent-Raw-Tucson to RSVP. You will have to join the group. Kristen Taylor, the meetup organizer, posts wonderful raw events and you will have privy to them once you sign up. See, it just keeps getting better and better. Directions to my home are mailed to you from Succulent Raw before the event.
---

A Special Internet Correspondent Shares His Colonic Story Spina Bifida,
Tethered Cord Syndrome and Colon Hydrotherapy
I have been corresponding with William, an accomplished musician, for many years. He wrote this wonderful
testimonial about his colon hydrotherapy experience.


"I was born in 1951 with an active progressive medical condition known as Spina Bifida (Lipomyleomeningecele). As there was little empirical research on SB at that time, the actual diagnosis for this congenital neurological condition was not made until I was 10.

Early manifestations for the disorder for me were orthopedic and gastro-intestinal in nature.

I enjoyed a relatively normal childhood and early adult years. By 1976, I had undergone seven surgical procedures on my right foot to correct cavus pedis, similar in nature to clubfoot.

Also that year, it was necessary for me to go on a program called Clean Intermittent Catherization or CIC, as my (neurogenic) bladder would no longer empty on its own.

By 1997, I was experiencing great difficulties with ambulation and sought out a re-evaluation by a pediatric neurosurgeon at a local children's hospital. This physician and hospital were on the cutting edge for research into the diagnosis and treatment of Spina Bifida that had now become more widely understood by the medical community at large.

It was discovered that I had Tethered Cord Syndrome, secondary to my SB, and that surgery was required immediately if I were to continue to be able to walk without assistive devices like crutches or a wheelchair.

The surgical procedure was successful in halting the progression of the damage to my neurological profile. However, my bowels did stop functioning immediately as a result of the surgery.

The physicians and staff at the hospital assured me that this would be temporary. Within two months I was still not experiencing regular unassisted BM's so I scheduled my first appointment with a registered (IACT) colon hydrotherapist.

The Colon Hydrotherapist placed me on a regimen of home cleansings, diet modification and saw me for regularly scheduled monthly appointments for seven years. In December of 2005, my bowel function was restored. Since then, I have been able to have regular BM's without the need for any home cleanings.

I am enjoying life today thanks to IACT and to the Colon Hydrotherapist who helped me get back on track."

-William G Walton 3rd [email protected]
---

Private Retreat Space Available in My Home
Would you like to unplug for a few days to a week and feast on raw juices, raw foods, green smoothies, broths or the Specific Carbohydrate Diet? I have a 2nd floor guest bed/bath for your privacy. I can work with you on your program. Exercise, colonics, rest and clean diet are within your reach! Call or email for details and availability. 520-325-9686 or [email protected].
---

The Economic Colonic
The 'economic colonic' is back due to big demand. Some clients are taking advantage of this wonderful offer. When you ask for the 'economic colonic' your price for each session is $55. If you purchase a series of them, you have 3 months to use them before they expire. The portal to the EC is from the day you receive this newsletter to March 18, Friday, 2011.
---

Opportunity to Rent Beautiful Office Space
I have a spacious room at the office perfect for a holistic practitioner. We are centrally located on 5th Street. Are you an LMT, a therapist or an herbalist desiring your own space to expand your practice? Give a call or email. I would love to show you the room. 520-325-9686 or [email protected].
---

Hot Links to Cool Places
Soy: Cinderella's Dark Side
By Mary Enig PhD and Sally Fallon MA. For those of you who want to dig into the truth about soy, read this article. Enig and Fallon are well-known nutritionists with the Weston Price Foundation
Grace Grove
Grace Grove video on Colon Hydrotherapy by Puma St Angel Scroll down to watch Puma's video on Colonics!
What Are The Biofilms?
I was introduced to the concept of 'biofilm' when I was studying the works and words of Elaine Gottschall, author of Breaking the Vicious Cycle, a treatise on how sugar effects the gut wall. She mentioned the existence of a biofilm on the gut wall that had a deleterious effect on our health. Dr Eliaz provides more info for us.
"The existence of biofilms is an important consideration in the treatment of infections and is speculated to be one of the reasons that pathogenic organisms can be so difficult to eradicate. Antimicrobial pharmaceuticals or botanicals most often fail to penetrate into the biofilm matrix hence many organisms are able to survive treatment. Biofilm matrixes can colonize in our intestinal system and many of us live with them unknowingly."
Chronic Fluoride Poisoning mimics Lyme (OT)
Brother Mike sent this post from a yahoo group. We might as well know what is poisoning us and how it does so.
According to Geoffrey Nochimson, MD, Consulting Staff, Department of Emergency Medicine, Sentara Careplex Hospital, "Ingested fluoride initially acts locally on the intestinal mucosa. It can form hydrofluoric acid in the stomach, which leads to GI irritation or corrosive effects. Following ingestion, the GI tract is the earliest and most commonly affected organ system." 4 If eaten in enough quantity, it can eat through the stomach lining. According to the Minnesota Poison Control System, "HydroFluoric Acid is a particularly dangerous acid because of its unique ability among acids to penetrate tissue." They go on to say that this can cause soft tissue damage, bone erosion, and electrolyte abnormalities. It leaches calcium and magnesium from the body creating deficiency, and is "directly toxic to a number of cellular enzymes and metabolic processes." 5...
Previews to 4 key videos on Genetically Modified Organisms
---

Remember! I Give Lectures and Presentations
Sheila Shea is available to speak to your business or professional organization. I am happy to present my knowledge on colon hydrotherapy, detoxification and cleansing programs, raw food and/or specific carbohydrate diets. Email or call me (520) 325-9686.

---

Services
Colon Hydrotherapy Spa & School, Consultations, Retreats & Raw Food Classes.
---

Keep Your Plumbing Humming!





I hope that I have given you food for thought in this newsletter and ways that you can go to the next level in your health.

I got the quote, 'Keep your plumbing humming' from a wonderful general contractor friend. That's her company byline!

So keep your plumbing happy and healthy. And, unfreeze those pipes!!!

Be in touch with your thoughts and questions.

Best,

Sheila Shea, Director

www.intestinalhealthinstitute.com


[email protected]