In This Issue
---

Sheila's Blog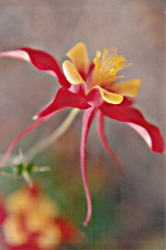 Hello Dear Subscribers Worldwide!

Welcome to the New Year of possibilities. The Intestinal Health Institute is beginning with some wonderful health opportunities for you as we move into 2011.

Please remember to make smiling, laughing, fun and movement part of your health regime as well. It does improve health.

Now, for the other nuts and bolts of a good health program.

Enjoy,

Sheila
---

Start the New Year with a Super Raw Food Workshop at My Home
The New Year Raw Food Workshop is scheduled for January 22, Saturday, from 10AM to 2PM. We are charging $89 per person. Jovanka Hall will join me and co-teach this Go Nuts! Workshop. She is an MA in Public Health and has been studying holistic health in depth. She's the Excalibur dehydrating expert!

Go Nuts! That's the main theme of this workshop. We want to familiarize you with the many ways that nuts can be used in the diet and as an alternative to complex sugars. Discover how to use nuts to make delicious nut milks, pesto's, pates, dressings, breads, crackers, drinks and desserts.

We are targeting busy people. We want to show you that making this food is no fuss. It's a breeze. When it's easy, you'll do it more often. All of the dishes are versatile. You can do many things with one recipe.

What you will get from our Go Nuts Raw Food Workshop: breakfast, lunch, desserts, printed recipes, hands on experience creating dishes, camaraderie, making dishes that last a few days, fun, Q & A and opportunities for improved health.

To Register:

Please call or email Jovanka or me to register. $89.

Sheila Shea - 520-325-9686 or [email protected]

Jovanka Hall - 520-609-7277 or [email protected]

Directions on registration. Columbus/Ft Lowell area.

We look forward to having a lot of fun with you on this auspicious date!
---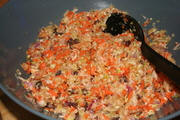 Photos & YouTube Video of November Raw Food Potluck
Photos of November 6 Raw Potluck at my Home
Pictures of the recipes are great!
You Tube Link to Video of the November Raw Food Potluck
---

Start the New Year with Cleanses Combined with Colonics: The 3 C's
Anyone that wants to go to the next level of health and clarity combines a cleanse with colonics. The 4 key cleanses are GI tract, liver and gall bladder, kidneys and parasites.

The key cleanse I have for the GI tract is the 7-Day by Arise & Shine. It's an $80 box with all the ingredients in little packets with a brochure describing the protocol. You have daily packets for 2 psyllium/bentonite shakes, 3 servings of Chomper and Herbal Nutrition and 1 serving of Flow Grow. Chomper is guaranteed to dissolve waste on the walls. Herbal Nutrition feeds your organs. Flora Grow is the good bacteria. Psyllium and Bentonite are the goo that sucks the waste off the GI walls.

I suggest you do 3 colonic sessions with the 7-Day, beginning, middle and end. What more could you ask for in the New Year!

Next in line comes the liver gall bladder flush! I have listed 4 possible cleanses below. You buy the ingredients yourself. I suggest you get 2 colonics during the liver gall bladder flush.

I've tried ener-chi, herbdoc and theherbfinder. They are all excellent. Please feel free to try different ones.

Ener-Chi
Andreas Moritz has written extensively on the liver and diet, a firm believer in the vegan way. One client did his cleanse 12 times and looks 12 years younger, lost her symptoms and did it while being a mom to 3 teenage kids.

Dr. Schulze - HerbDoc
Dr. Schulze in California. This is my favorite. I had a big breakthrough where I could feel acid leaving my liver, a big dump right into my gut! The liver dumps its bile into the small intestines.

The Herb Finder
This was my first liver cleanse. They use the orthophosphoric acid in apple juice to break down the build up in the liver tubules plus other ingredients.


DrClark.com and DrClark.net
Dr. Hulda Clark is a biochemical genius and it widely known for her cleanses. My most often repeated cleanse of hers is for parasites, which is 17 days long.
You are welcome to call me to consult on the how, when and why. 520-325-9686 or email.

---

The Year Pass for Unlimited Colonics
It's a New Year everyone! You have new opportunities to improve your health and take your actions to the next level. I am offering the Year Pass! You may purchase a pass for unlimited Colon Hydrotherapy sessions for one year for $1000. The window of purchase begins the day you receive your newsletter until January 31, 2011. Clearly, this would be for someone who feels they will use more than one monthly. Also, you have an opportunity to work on GI, liver/gall bladder, parasite and kidney cleanses with focus. You are welcome to call or email if interested.
---

Private Retreat Space Available in My Home
Would you like to unplug for a few days to a week and feast on raw juices, raw foods, green smoothies, broths or the Specific Carbohydrate Diet? I have a 2nd floor guest bed/bath for your privacy. I can work with you on your program. Exercise, colonics, rest and clean diet are within your reach! Call or email for details and availability. 520-325-9686 or [email protected].

---

The Economic Colonic
The 'economic colonic' is back due to big demand. Some clients are taking advantage of this wonderful offer. When you ask for the 'economic colonic' your price for each session is $55. If you purchase a series of them, you have 3 months to use them before they expire. The portal to the EC is from the day you receive this newsletter to January 22, Saturday, 2011.
---

Opportunity to Rent Beautiful Office Space

I have a spacious room at the office perfect for a holistic practitioner. We are centrally located on 5th Street. Are you an LMT, a therapist or an herbalist desiring your own space to expand your practice? Give a call or email. I would love to show you the room. 520-325-9686 or [email protected].
---

Colon Hydrotherapy While Traveling: Sheila visits Tracy Piper in NYC
What a fabulous 67th birthday celebration weekend in NYC! I visited with a dear friend and we made appointments to receive Colon Hydrotherapy sessions from Tracy Piper. Tracy has a great center in SOHO on Spring St and she has a repertoire of tools guaranteed to clean you out. I took notes!

While in NYC, I learned about Pure Food and Wine, a great organic raw food and wine restaurant in Gramercy Park area. Reservations are absolutely necessary. Check it out.

The point here is that we can use travel to continue and/or improve our good health. Many people come to Tucson and call in advance to make an appointment while they are visiting here. You can do the same thing when you travel. Also, find out where the best raw food or organic or locally grown food restaurants are and get out and enjoy them. You'll be eating healthy and gourmet.

Also, as an aside to colon hydrotherapists, I visit clinics and receive colon hydrotherapy when I travel. I learn so much from each therapist about their office, practice and techniques. This is a great opportunity for me to learn and improve my practice. The laboratory and classroom are the office and treatment room. I encourage you to do the same.
---

More for Colon Hydrotherapist's
CPR Guidelines Fail to Quell Controversy

The U of AZ Alumni enewsletter has sent another great article on the latest in CPR for cardiac arrest. All colon therapists need to know and have this information. It is a prerequisite for entry into a professional training program.
---

Hot Links to Cool Sites
Sugar: The Bitter Truth
Robert Lustig, MD, UCSF, gives a scintillating 1.5 hour talk that shows the toxic nature of sugar specifically sucrose and especially fructose from non-fruit sources. He is a pediatric specialist and even describes the epidemic of obesity in 6-month old infants. The video contains a section on biochemistry so dieticians, nutritionists and other medical personnel will be served! Get shocked.
Patient Money: Treating Eating Disorders and Paying for It
Eating disorders may persist for years, wreaking havoc on health, personal relationships and often on family finances because the care can be so expensive.
Picazzo's Organic Italian Kitchen in Tucson
Picazzo's is an organic and gluten-free restaurant in Tucson.
Master Cleanse by Stanley Burroughs
Become familiar with another wonderful cleanse called the Master Cleanse by Stanley Burroughs. It's a classic and has been around for a long time. Length is approximately 10 days. Educate yourself on this foundational fast. Jill Schneider has given us a great synopsis and guideline to do the whole cleanse.
I had a 25-year old female come in on the 12th day of her Master Cleanse. I asked why she was doing it. She responded that her depression had become so seriously debilitating that she had to take decisive action. I asked her what happened to the depression. She said she lost it after 5 days. Is that a miracle story! And with 4 ingredients: lemon juice, maples syrup, cayenne powder and water. Go figure!
An 11-year-old schools us on what's wrong with the current food system [VIDEO] Grist 5:21
Birke Baehr is an 11-year old giving a public talk to Next Generation Ashville on "What's Wrong with Our Food?" His talk is a guarantied consciousness-raiser and you might want to have your kids tune in and watch.
Just Say NO to GMO!
This hip-hop musical video with quotes by Jeffrey Smith and others is a must listen/see. Love the music and the message.
Genetically Modified Crops Pollute Streams and Threaten Us and the Entire Food Chain
As Natural News reported earlier this year, although GMOs have infiltrated our food supply, the
results
of human feeding trials have only been published once. The results found disturbing evidence that the
genetic code
of GM soy infiltrates and changes the genetic makeup of the
healthy bacteria
in our guts and then the changed
bacteria
continue to replicate themselves.
Pooping Out Plastic Not a Painful Process
How poop can be made into plastic and short circuit our dependence on oil!
---

Remember! I Give Lectures and Presentations
Sheila Shea is available to speak to your business or professional organization. I am happy to present my knowledge on colon hydrotherapy, detoxification and cleansing programs, raw food and/or specific carbohydrate diets. Email or call me (520) 325-9686.

---

Services
Colon Hydrotherapy Spa & School, Consultations, Retreats & Raw Food Classes.
---

In Gut We Trust